The Year of Our Lord 2019, Feb. 3, Presentation of Christ in the Temple
Liturgy of the Word pg. 138, Creed pg. 748
Anaphora of St John, pg. 815
- Sunday 9:30 am Liturgy is offered for your intentions
-
Sunday 11:30 am Liturgy
is offered as a 40-day memorial for the repose of the soul of Gihad Zakhour, as requested by his wife, Charisse, and family. May his soul rest in eternal peace.

- Sunday 11:30 am Liturgy
is offered as a one year memorial for the repose of the soul of Victor Atallah, as requested by his wife, Najat, son, Dany, and daughter, Dareen, and family. May he rest in the peace of Christ.
- Sunday 11:30 am Liturgy is offered as a one year memorial for the repose of the soul of Elie Diab, as requested by his nephews and nieces of the Diab families. May he rejoice in the heavenly kingdom
- Next Sunday, February 10, 11:30 am Liturgy will be offered as a memorial for the repose of the soul of Claire Schoucair Wakim, as requested by her son, Dr. Paul (Connie) Wakim and family. She passed away last week in Lebanon. May she rest in God's peace.
- We offer our sincere condolences for the passing away of Gladis Farrage, mother of Tom Farrage, Christine, Margaret, Lisa and John, and cousin of Mary and Lucille Farrage. She passed away last week. May she dwell in heaven above.
Weekday Liturgy
- Monday, Feb 4, 6:30 pm
- Wednesday, Feb 6, 7:00 pm
- Thursday, Feb 7, 7:00 pm
- Friday, Feb 8, 7:00 pm, Eve of the feast of St. Maron
- Saturday, Feb 9, 6:00 pm, Feast of St. Maron, Holy Day of Obligation
There will be no discussion with Joe Waked this Sunday.
We will resume on Feb 10, the topic of our discussion will be: Why be Catholic and not just Christian? and we go through this video:
https://youtu.be/jJCbCs-y1_k
Some parishioners are receiving spam emails from:

Rev.Antoine Bakh: c

hurchparish.office722@gmail.com

Msgr. Bakh uses only the following emails for his electronic correspondence:

-

email@johnmaron.org

-

fr.bakh@johnmaron.orgPlease do not trust any emails that do not look legitimate even if they appear to be from the correct emails; an email can be spoofed. An original email can be hidden or disguised. Also anyone can create any email and put anybody's name to it. Be careful!
We thank all parents of Religious Education program who have answered the survey recommended by Bishop Zaidan.
We encourage those who did not answer yet to do it shortly.
Your input is very important to help us revitalize the Religious Education Program in the whole Eparchy.
Last Week's Collections:

Sunday, 9:30 am: $1,365

Sunday, 11:30 am: $1,577

Contributions: $590

Second Collection

(Eparchial Charities): $400

FaithDirect

-- Auto Pay

Your commitment on a monthly basis helps us better plan and budget

.We couldn't make any of our activities without the contribution of many parishioners like you.Thank you! Kindly Consider your continuous monthly support by auto-pay, through

faithdirect.net

(it is safe and confidential) Parish Code: CA818

The Presentation of Christ in the Temple

Romans 9:30-10:4—Righteousness Based on Faith
What then are we to say? Gentiles, who did not strive for righteousness, have attained it, that is, righteousness through faith; but Israel, who did strive for the righteousness that is based on the law, did not succeed in fulfilling that law. Why not? Because they did not strive for it on the basis of faith, but as if it were based on works. They have stumbled over the stumbling stone, as it is written, "See, I am laying in Zion a stone that will make people stumble, a rock that will make them fall, and whoever believes in him will not be put to shame." Brothers and sisters, my heart's desire and prayer to God for them is that they may be saved. I can testify that they have a zeal for God, but it is not enlightened. For, being ignorant of the righteousness that comes from God, and seeking to establish their own, they have not submitted to God's righteousness. For Christ is the end of the law so that there may be righteousness for everyone who believes.

Luke 2:22-35—The Presentation in the Temple
When the time came for their purification according to the law of Moses, they brought him up to Jerusalem to present him to the Lord (as it is written in the law of the Lord, "Every firstborn male shall be designated as holy to the Lord"), and they offered a sacrifice according to what is stated in the law of the Lord, "a pair of turtledoves or two young pigeons." Now there was a man in Jerusalem whose name was Simeon; this man was righteous and devout, looking forward to the consolation of Israel, and the Holy Spirit rested on him. It had been revealed to him by the Holy Spirit that he would not see death before he had seen the Lord's Messiah. Guided by the Spirit, Simeon came into the temple; and when the parents brought in the child Jesus, to do for him what was customary under the law, Simeon took him in his arms and praised God, saying, "Master, now you are dismissing your servant in peace, according to your word; for my eyes have seen your salvation, which you have prepared in the presence of all peoples, a light for revelation to the Gentiles and for glory to your people Israel." And the child's father and mother were amazed at what was being said about him. Then Simeon blessed them and said to his mother Mary, "This child is destined for the falling and the rising of many in Israel, and to be a sign that will be opposed so that the inner thoughts of many will be revealed — and a sword will pierce your own soul too."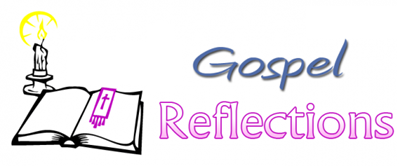 4th week of Epiphany
Law and Faith
Rom 7:1-6
Margaret Ghosn mshf

In a number of Paul's letters, he writes about the law and faith. He wants to bring across the point that the Mosaic Law (Jewish legal obligations) was now superseded by faith in Christ.
Religion unfortunately tends to veer towards legalities and formalities, rules and regulations, laws and decrees. Paul grew up a Jew and was subject to over 360 binding laws. The Book of Leviticus, chapter by chapter, outlies duties, laws and requirements necessary for believers. Following these laws indicated the extent a person was considered 'religious.'
However, through our baptism we are believers and through the grace of God's Holy Spirit we become righteous in faith. As Paul writes in today's Reading, 'we are slaves not under the old written code but in the new life of the Spirit' (v6).
A mature person does not require religious laws to behave civilly. A person who belongs to Christ, discerns what is best through prayer and the modelling of Jesus. Religious people become an imitation of Christ through the grace of the Holy Spirit received at baptism.
It is time to grow as Christians. To do away with restrictive and binding laws that encourage obedience at the expense of maturity. It is time to do away with total focus on religious laws that distance one from deep self-reflection. It is now time to live in the grace of God, to choose freely, to take responsibility and to grow more intimately in Christ. Then we will have reached mature religiousness. Amen
CONFESSIONS:
Before Liturgy
WEDDINGS:
Allow 6 months
BAPTISMS:
Allow 1 month.
Pastor: Msgr. Antoine Bakh

email: fr.bakh@johnmaron.org




Pastoral Assistant: Eliane Cury

email: elianecury@johnmaron.org

Administrative Assistant: Marale Kanaan

email: secretary@johnmaron.org




Subdeacon: Charles Doche (949) 939-4113

Sr. Laure Attieh: 657-262-8136

Sr. Martha Mechleb: 657-262-8316




Council: Dr. Robby Ayoub 714 402-0090

Stewardship: Bob Hamra Jr. 714-520-3222

Head Ushers: Joseph Yezbak & Tony Khoury

Choir: Dr. Anthony Elkhoueiry

League: Marlize Ayoub, marlize05@hotmail.com

Women's Society: Shirley Bayeh

Young Adults: Michael Chaoui

Youth Group: Andrea Doche 949- 648-9425

Kids Club: M Kamel,

Rima Abi-Abdallah & Rita Tabet

Parish Outreach: Holly Risha 562- 900-7270

Religious Ed: Marie Therese Abboud

(714) 615-8952

Arabic Classes: Dr. Marlize Ayoub 714-402-1644

Kitchen Committee: Gine Lazo (714) 322-5219