The Year of Our Lord 2018, November 4, Consecration of the Church
Liturgy of the Word pg. 7, Creed pg. 748
Anaphora of St. James, pg. 835
- Sunday 9:30 am Liturgy is offered for your intentions.
- Sunday 11:30 am Liturgy is offered as a memorial for Aure Geday as requested by her sister, Argentine Massabki. May she rest in peace!
Weekday Liturgy:


No liturgy Wednesday, Thursday, and Saturday this week because Monsignor is out of town.
- Friday Liturgy, 7:00 pm
Between the ages of 18-35?
Need a break from life?
Struggling with your faith?
Want to grow closer to God and create lasting friendships?
The annual MYA Retreat is the place for you to be!
Taking place in Big Bear Lake from November 9-11, this retreat will focus on "Incorporating God into our everyday lives". With meaningful discussions and activities, a special guest speaker, mass in the beautiful outdoors, games and quality time with one another, this retreat is one you won't want to miss! Elections for our next MYA President will also be taking place!
Hope to see you all next weekend!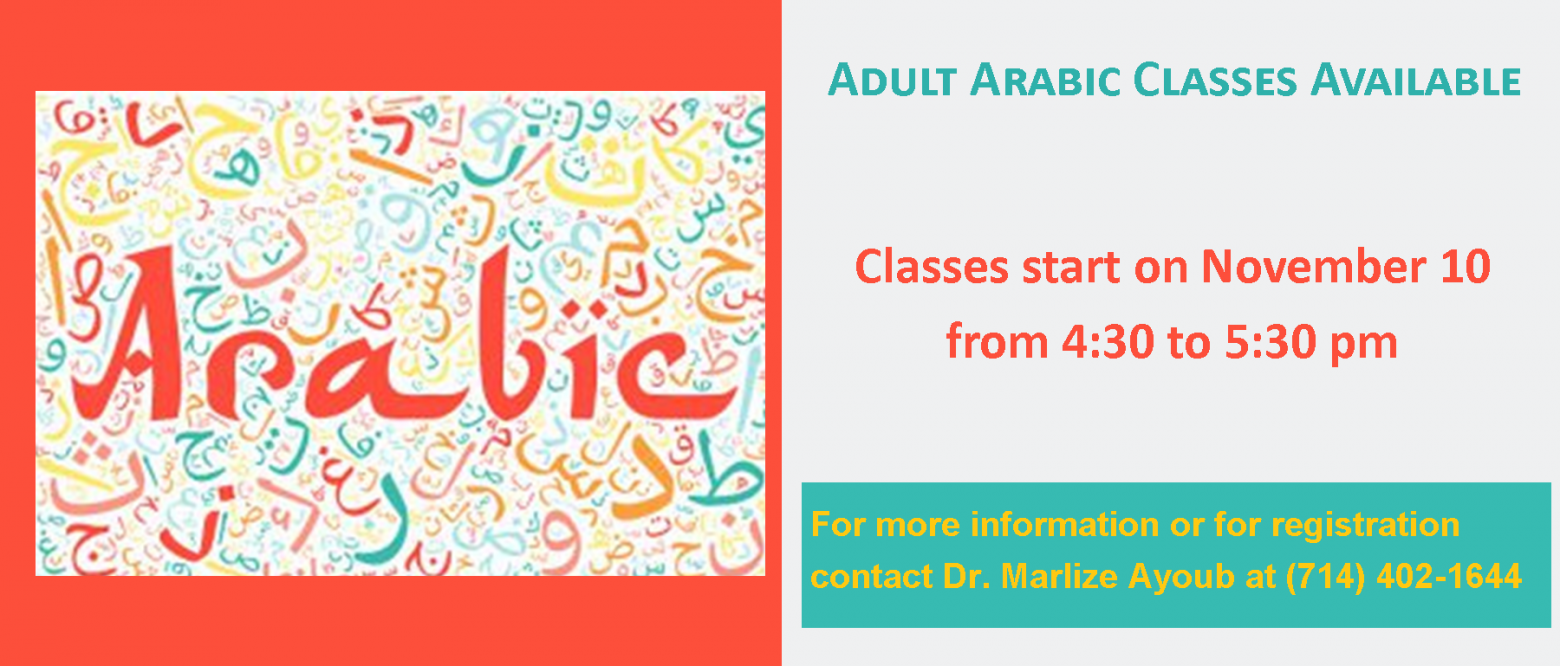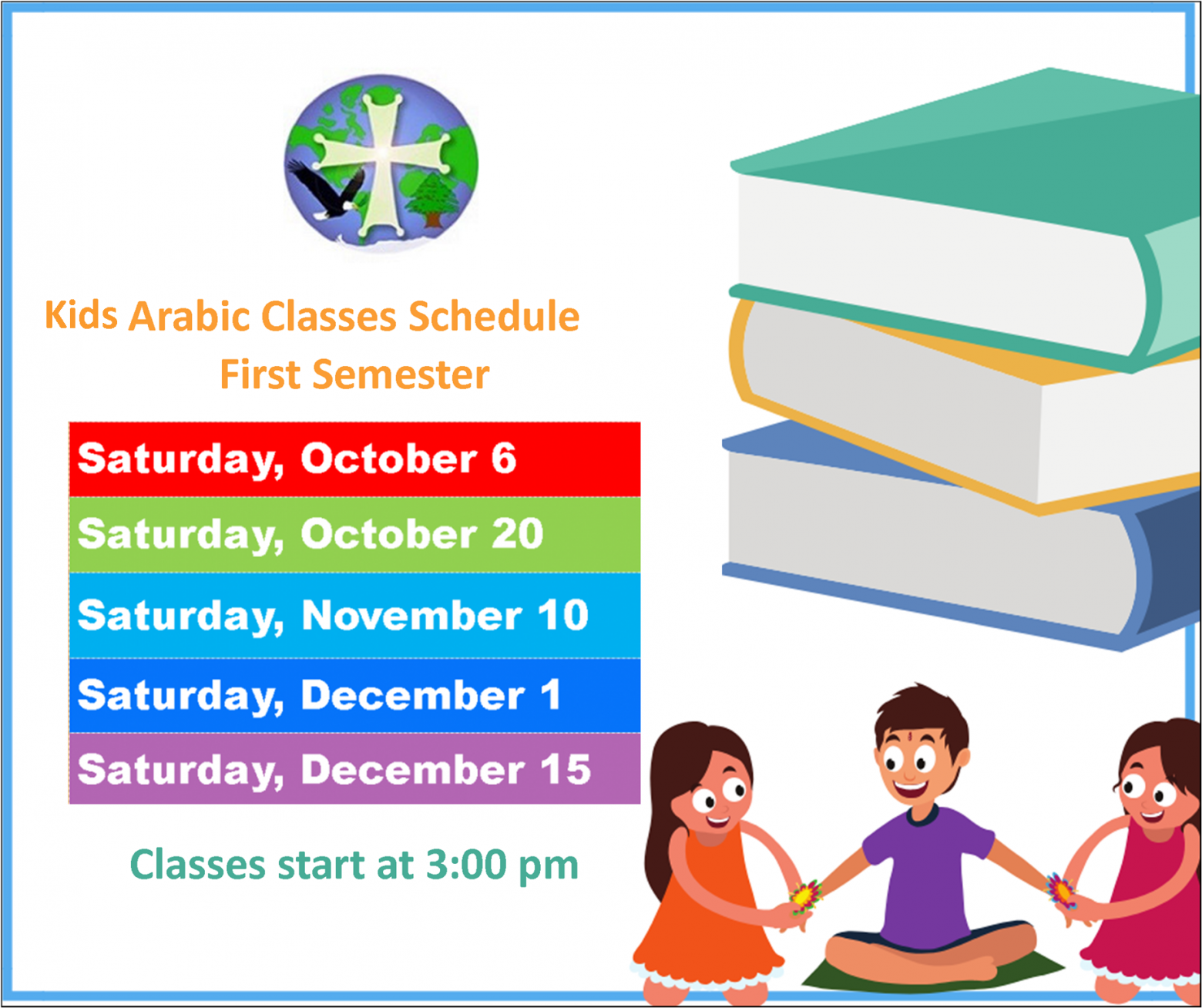 Some dates have Dabke or Choir at 2:00pm
For more information contact Dr. Marlize Ayoub at (714) 402-1644
Last Week's Collections:

Saturday, 6:00 pm: $26

Sunday, 9:30 am: $780

Sunday, 11:30 am: $1121

Contributions: $350

2nd collection, World Mission: $280

FaithDirect

-- Auto Pay

Your commitment on a monthly basis helps us better plan and budget

.We couldn't make any of our activities without the contribution of many parishioners like you.Thank you! Kindly Consider your continuous monthly support by auto-pay, through

faithdirect.net

(it is safe and confidential) Parish Code: CA818

CONSECRATION OF THE CHURCH
Hebrews 9:1-12 The Worship of the First Covenant
Even the first covenant had regulations for worship and an earthly sanctuary. For a tent was constructed, the first one, in which were the lamp stand, the table, and the bread of the Presence; this is called the Holy Place. Behind the second curtain was a tent called the Holy of Holies. In it stood the golden altar of incense and the ark of the covenant overlaid on all sides with gold, in which there was a golden urn holding the manna, and Aaron's rod that budded, and the tablets of the covenant; above it were the cherubim of glory overshadowing the mercy seat. Of these things, we cannot speak now in detail. Such preparations having been made, the priests go continually into the first tent to carry out their ritual duties; but only the high priest goes into the second, and he but once a year, and not without taking the blood that he offers for himself and for the sins committed unintentionally by the people. By this, the Holy Spirit indicates that the way into the sanctuary has not yet been disclosed as long as the first tent is still standing. This is a symbol of the present time, during which gifts and sacrifices are offered that cannot perfect the conscience of the worshiper, but deal only with food and drink and various baptisms, regulations for the body imposed until the time comes to set things right. But when Christ came as a high priest of the good things that have come, then through the greater and perfect tent (not made with hands, that is, not of this creation), he entered once for all into the Holy Place, not with the blood of goats and calves, but with his own blood, thus obtaining eternal redemption.
Matthew 16:13-20 Peter's Confession about Jesus
When Jesus came into the district of Caesarea Philippi, he asked his disciples, "Who do people say that the Son of Man is?" And they said, "Some say John the Baptist, but others Elijah, and still others Jeremiah or one of the prophets." He said to them, "But who do you say that I am?" Simon Peter answered, "You are the Messiah, the Son of the living God." And Jesus answered him, "Blessed are you, Simon son of Jonah! For flesh and blood has not revealed this to you, but my Father in heaven. And I tell you, you are Peter, and on this rock, I will build my church, and the gates of Hades will not prevail against it. I will give you the keys of the kingdom of heaven, and whatever you bind on earth will be bound in heaven, and whatever you loose on earth will be loosed in heaven." Then he sternly ordered the disciples not to tell anyone that he was the Messiah.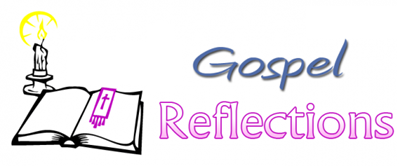 November 4, 2018
Consecration of the Church

Hb 9:1-12
Margaret Ghosn mshf
We enter into a new liturgical year and this time round we will be reflecting on the first Reading for each Sunday. As we celebrate the Consecration of the Church, our Reading is taken from the letter to the Hebrews.
The letter was written much later than Paul's letters and we see in it a tendency to focus on the emerging hierarchical and patriarchal structure of the Church with its emphasis on priesthood and sacrifice.
Today's Reading takes us through the various forms of places of worship. If we travel through the Old Testament we will notice that God resided in different places. In Genesis 3, God walked in the Garden of Eden, among humans. Soon after God was a transcendent presence and worship was offered to God through the building of shrines or altars of stone as we see with Abraham (Gen 12:8) and Jacob (Gen 28:22).
By the time of Moses, 400 years later, we have a tent that housed the Ark, where the presence of God was. Then King Solomon built a Temple around 1000 BCE, which included the Holy of holies, the sanctuary where God dwelled.
Then Jesus came along and replaced the Temple with his own body. So today God is understood to be not only in the Church and in the celebration of the Eucharist, but also walks among us, present in mysterious ways, transcendentally and immanently. So as we celebrate the Consecration of the Church, let us not forget that God's presence is alive and is known by love. Amen
Pastor: Msgr. Antoine Bakh

email: fr.bakh@johnmaron.org




Pastoral Assistant: Eliane Cury

email: elianecury@johnmaron.org

Administrative Assistant: Marale Kanaan

email: secretary@johnmaron.org




Subdeacon: Charles Doche (949) 939-4113

Sr. Laure Attieh: 657-262-8136

Sr. Martha Mechleb: 657-262-8316




Council: Dr. Robby Ayoub 714 402-0090

Stewardship: Bob Hamra Jr. 714-520-3222

Head Ushers: Joseph Yezbak & Tony Khoury

Choir: Dr. Anthony Elkhoueiry

League: Marie Ghanimeh marieghanimeh@gmail.com

Women's Society: Rita Khattar 562-773-8994

Young Adults: Tarah Boustani

Youth Group: Andrea Doche 949- 648-9425

Kids Club: Dr. Michel Kamel & Rima Abi-Abdallah

Parish Outreach: Holly Risha 562- 900-7270

Religious Ed: Marie Therese Abboud

(714) 615-8952

Arabic Classes: Dr. Marlize Ayoub 714-402-1644

Kitchen Committee: Gine Lazo (714) 322-5219
CONFESSIONS:
Before Liturgy
WEDDINGS:
Allow 6 months
BAPTISMS:
Allow 1 month.