The Year of Our Lord 2018, September 9, Seventeenth Week of Pentecost
Liturgy of the Word pg. 428, Creed pg. 748
Anaphora of the 12 Apostles, pg. 754
- Sunday 9:30 am Liturgy

is

offered for your intentions.

- Sunday 11:30 am Liturgy is offered as a 40-day memorial for the repose of the soul of Jamilet Tabet Elkhoury, as requested by her sons, Joseph (Rania) Elkhoury and Andre (Vivianne) Elkhoury and family. May she rest in the peace of Christ.-

Next Sunday September 16, 11:30 am Liturgy

will be offered as a 1 year memorial for the repose of the soul of

Alice Salloum, as requested by her sons, Joseph (Nada), Jean (Jeanette), and daughters, Salwa and Mona. May her memory be eternal.

Weekday Liturgy:


- Tuesday, September 11, 7:00pm Liturgy + 1 hour Adoration, Rosary & Confession.

Day of Fast & Prayer


- Wednesday, September 12, 7:00pm + 1 hour Adoration, Rosary & Confession. Day of Fast & Prayer
- Thursday, September 13, 7:00 pm Liturgy + 1 hour Adoration, Rosary & Confession. Day of Fast & Prayer
- Friday, September 14, 7:00 pm Liturgy Feast of the Exaltation of the Holy Cross
- Saturday,

September 15

, 6:00 pm Liturgy

Dear Faithful of God:

Sayedna Elias Zaidan has asked all the faithful to join with the clergy and religious to dedicate three days of fasting and prayer "in response to our Holy Father's call for prayer and penance..." due to the scandals and indignation the church is experiencing.

As Bishop Elias says,
"I am inviting and asking you, and all your parishioners to join me and the entire Eparchy of Our Lady of Lebanon of Los Angeles, for three days of praying the Rosary every day, fasting every day, and offering the Mystery of Penance for your parishioners. I also ask that you hold one hour of adoration in front the Blessed Sacrament. You should begin on Tuesday, September 11, ending on September the 13th, the vigil of the feast of the Exaltation of the Holy Cross. It is becoming ever more clear that the Church is gripped by a personal force of evil. In speaking of evil, the Lord said, "[this kind of evil] can only be driven out by prayer and fasting."(Mark 9:29). Let us offer our prayers and sacrifices for the wounded Body of Christ – the Church."

Therefore I ask that everyone who is of able health to fast and everyone to pray more intensely for the three days that are dedicated, and to confess. Please note the schedule for weekday liturgy and the special times set for Adoration, Rosary and Confession if you are able to attend.

Msgr. Antoine Bakh


Many thanks to all those who spent countless hours to make this year's Street Fair outstandingly successful. Special Thanks to the Alex Lazo and Michel Kamel for organizing everything and the many volunteers who cooked and served and donated of their time or money or goods, as well as those who worked behind the scenes. It was the collaborative and teamwork spirit that made this event so successful. Profit results will be published next week. May God bless you in all your ways that glorify his name +
Religious Education classes begin today Sunday, September 9
We are excited about implementing a new interactive approach to teaching the faith.
The registration forms are attached, please click on the respective links.

Please hand in the registration form to your teacher today
---
September 9 to 16
Family Promise at SJM
For the second year, and In collaboration with Family Promise, an organization dedicated to providing assistance to homeless families, Saint John Maron church is hosting families (Mothers, Fathers, kids) from September 9 to September 16, 2018, They arrive each day at 5:30 pm and leave at 6:30 am.
We still need two people to sleep over Friday or Saturday night and someone to make dinner for Thursday or Friday night. If you want to help please contact Gina Turner at (714) 537-4225 or Click Here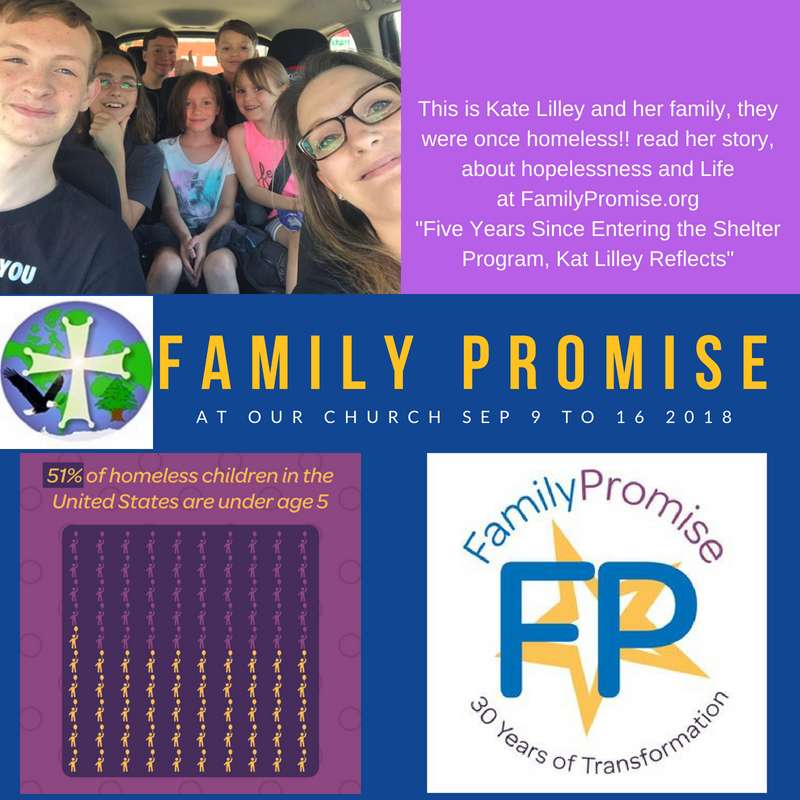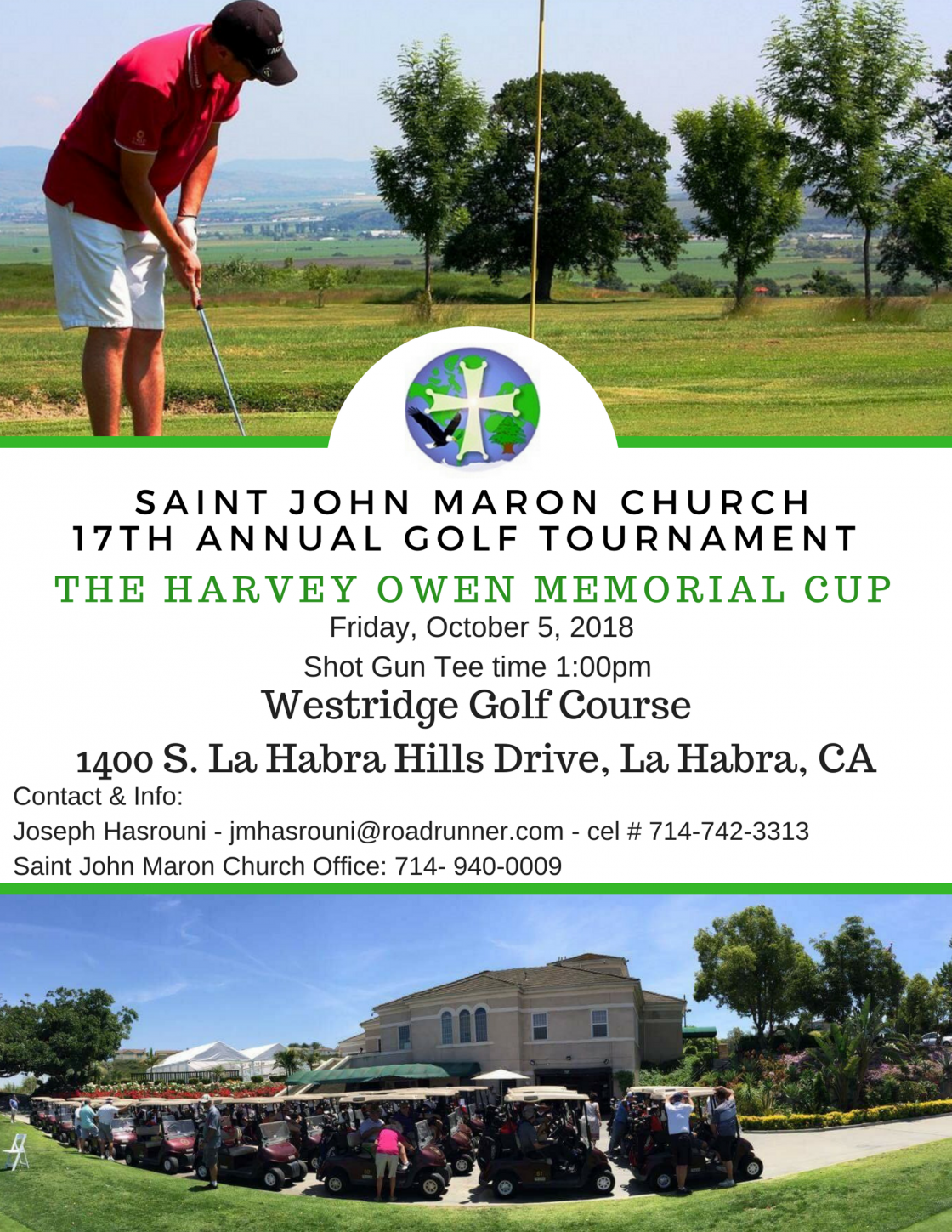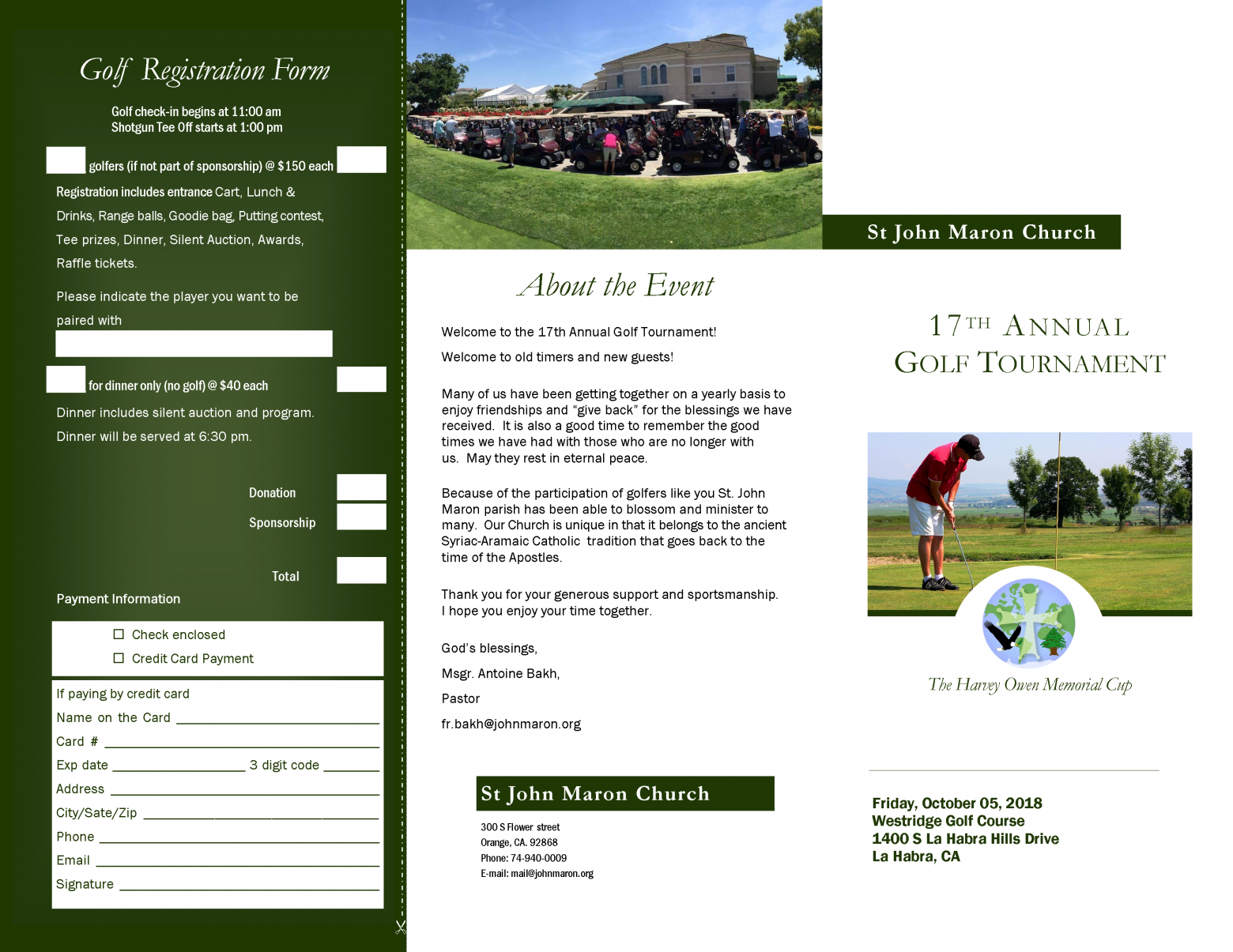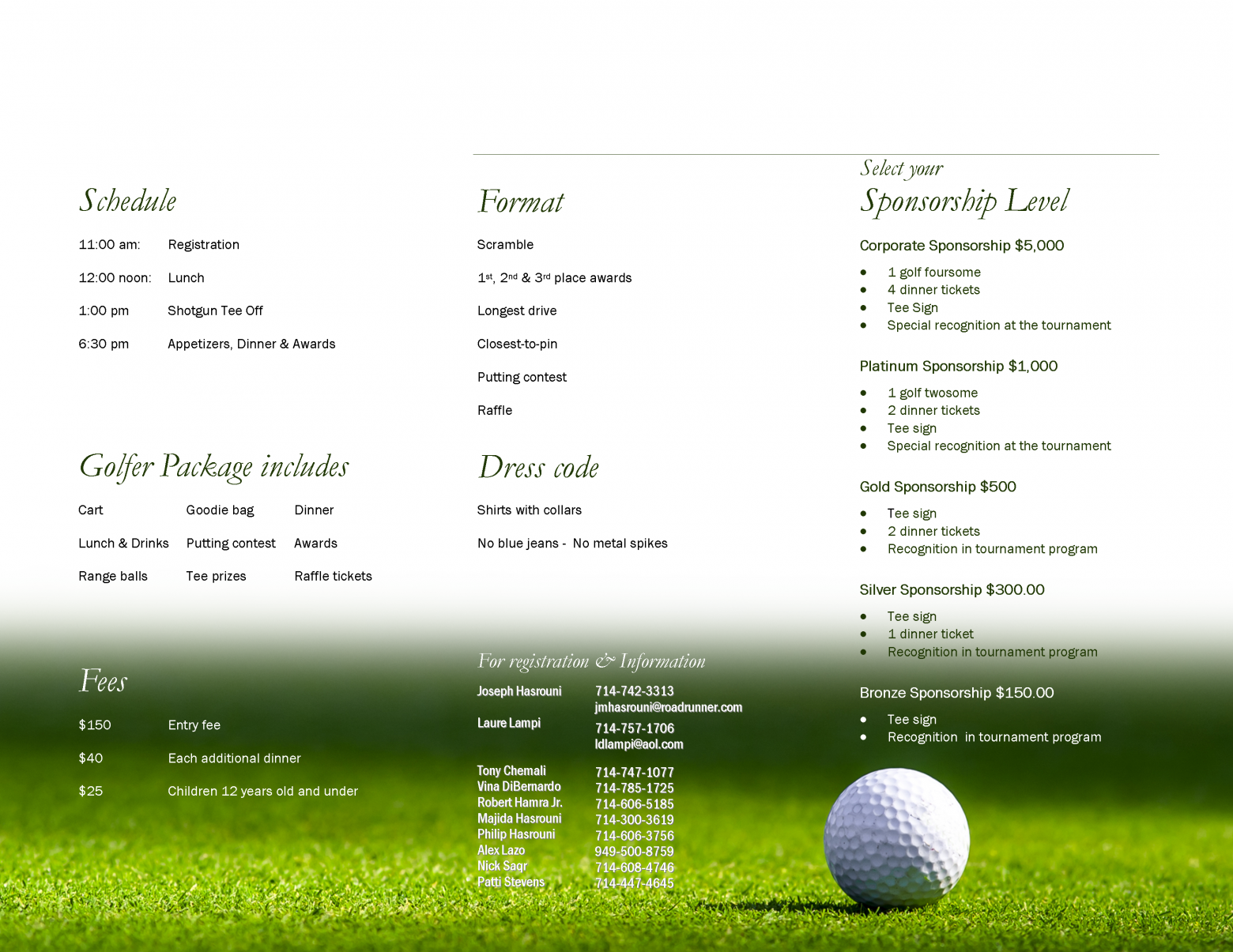 Leadership Discussion Sessions-- Oct. 11, 7:30 pm
Discussion Session 1: The Road to Self-Discovery
The first step in becoming an effective leader is to "Know Thyself". How can we lead, or cope without understanding our self. Too often today, we encounter situations of moral and ethical dimensions without a clear reference point for resolution. The days of black and white have long disappeared. The vast area of greys faces us daily. How do we resolve them?
This is the first in a set of discussion sessions to discuss issues and topics with relevance to our daily lives and experiences: within a Catholic reference. There will be a stage setting set of remarks meant to provoke thought and discussion: THIS IS NOT A LECTURE SESSION.
The discussion sessions are open to High School Graduates through age 35.
Moderator: Ed Salem
Last Week's Collections:

Saturday, 6:00 pm: $96

Sunday, 9:30 am: $692

Sunday, 11:30 am: $600

Contributions: $1,450

Second Collection today

for Catholic University

FaithDirect

Your commitment on a monthly basis helps us better plan and budget

.We couldn't make any of our activities without the contribution of many parishioners like you.Thank you! Kindly Consider your continuous monthly support by auto-pay, through

faithdirect.net

(it is safe and confidential) Parish Code: CA818

THE SEVENTEENTH WEEK OF PENTECOST SUNDAY

Romans 13:8-14 -- Love Fulfills the Law
Owe no one anything, except to love one another; for the one who loves another has fulfilled the law. The commandments, "You shall not commit adultery; You shall not murder; You shall not steal; You shall not covet"; and any other commandment, are summed up in this word, "Love your neighbour as yourself." Love does no wrong to a neighbour; therefore, love is the fulfilling of the law. Besides this, you know what time it is, how it is now the moment for you to wake from sleep. For salvation is nearer to us now than when we became believers; the night is far gone, the day is near. Let us then lay aside the works of darkness and put on the armour of light; let us live honourably as in the day, not in revelling and drunkenness, not in debauchery and licentiousness, not in quarrelling and jealousy. Instead, put on the Lord Jesus Christ, and make no provision for the flesh, to gratify its desires.


Luke 10:25-37 -- Greatest Commandment / Parable of the Good Samaritan
Just then a lawyer stood up to test Jesus. "Teacher," he said, "what must I do to inherit eternal life?" He said to him, "What is written in the law? What do you read there?" He answered, "You shall love the Lord your God with all your heart, and with all your soul, and with all your strength, and with all your mind; and your neighbor as yourself." And he said to him, "You have given the right answer; do this, and you will live." But wanting to justify himself, he asked Jesus, "And who is my neighbor?"
Jesus replied, "A man was going down from Jerusalem to Jericho, and fell into the hands of robbers, who stripped him, beat him, and went away, leaving him half dead. Now by chance a priest was going down that road; and when he saw him, he passed by on the other side. So likewise a Levite, when he came to the place and saw him, passed by on the other side. But a Samaritan while traveling came near him; and when he saw him, he was moved with pity. He went to him and bandaged his wounds, having poured oil and wine on them. Then he put him on his own animal, brought him to an inn, and took care of him. The next day he took out two denarii, gave them to the innkeeper, and said, 'Take care of him; and when I come back, I will repay you whatever more you spend.' Which of these three, do you think, was a neighbor to the man who fell into the hands of the robbers?" He said, "The one who showed him mercy." Jesus said to him, "Go and do likewise."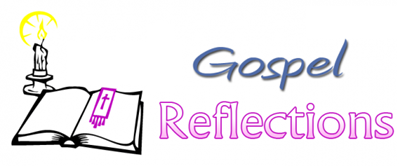 September 9, 2018

17th week of Pentecost

Luke 10:25-37
Do we have Compassion?
Mercy costs. Caring takes time. Showing compassion can be risky. Love is challenging. Yet Jesus insists we do such things. This Sunday's Gospel in the last week of the Season of Pentecost, offers us that popular parable of the Good Samaritan. In it Jesus challenges us to do the right thing. We take it for granted that people know how to care for others, to be a good neighbor. It should come naturally to us – if someone is in dire straits, we stop and help. Yet that is not the case and increasingly so.
In the parable two people passed by and did nothing to help the stranger. It was the third person who refused to simply be a 'passer-by.' In today's society we hear more and more each day of brutal attacks while their friends look on and laugh and encourage the violence. Too many others turn a blind eye to the desperate plight. Have we lost the ability to care or did we ever possess it? Jesus tells of the Good Samaritan's effort to care for the beaten stranger. The first and most important point was that 'he was moved with pity' (v33). We need to learn to open our hearts, become vulnerable, to see the other as Christ. The Samaritan then bandaged the wound, carries the man, takes him to an inn, pays any costs incurred and returns to check upon him.
Yes, it takes time and effort to care for others, but really is there anything more important to do with our time than to love one another? Amen
CLERGY & STAFF

Pastor: Msgr. Antoine Bakh

email: fr.bakh@johnmaron.org

Pastoral Assistant: Eliane Cury

email: elianecury@johnmaron.org

Subdeacon: Charles Doche

Sr. Laure Attieh: 657-262-8136

Sr. Martha Mechleb: 657-262-8316

BOARDS

Council: Dr. Robby Ayoub 714 402-0090

Stewardship: Bob Hamra Jr. 714-520-3222

LITURGICAL

Head Ushers: Joseph Yezbak & Tony Khoury

Choir: Dr. Anthony Elkhoueiry

CLUBS

League: Marie Ghanimeh marieghanimeh@gmail.com

Women's Society: Rita Khattar 562-773-8994

Young Adults: Tarah Boustani

Youth Group: Andrea Doche 949- 648-9425

Kids Club: Dr. Michel Kamel, Rania Khoury




COMMITTEES

Parish Outreach: Holly Risha 562- 900-7270

Religious Ed: Marie Therese Abboud

(714) 615-8952

Arabic Classes: Dr. Marlize Ayoub 714-402-1644

Kitchen Committee: Gine Lazo (714) 322-5219
CONFESSIONS:
Before Liturgy
WEDDINGS:
Allow 6 months
BAPTISMS:
Allow 1 month.